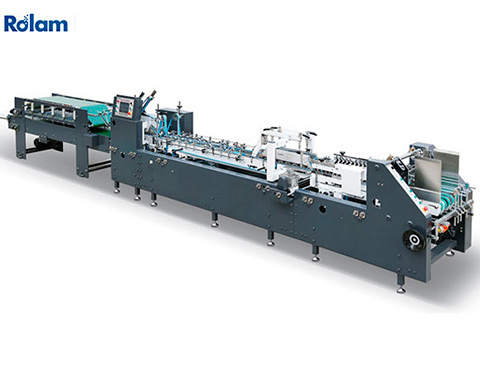 Automatic folder gluer is a machine used to pack boxes.
working principle
The working principle of the automatic folder gluer is that after the power is turned on, the entire conveyor belt starts to move, and the die-cut semi-finished carton is placed in the paper feeding position of the folder gluer, and the single box piece is automatically set by the conveyor belt according to the paper stop head frame. The good paper feed report is sent to the middle section of the belt (if the semi-finished carton is coated or polished and other surface treatments, after entering the middle section, the corresponding box can be glued on the inner edge by the glue gun at the same time) The conveyor belt will transport the box to the back section The glue box part is pressurized and packed.
Company Profile
Zhejiang New Luolan Machinery Co., Ltd, whose previous name is Ruian Gaoke Machinery, is established in 2006. As a professional manufacturer, we not only do manufacturing, but also researching, marketing and offering after sales service. We supply quality equipments, effective and convenient solutions for cardboard box and corrugated box folding industry, printing and packaging industry. Gluing folding machine and window patching machine which produced by Zhejiang New Luolan Machinery Co., Ltd have approved by the National Quality Supervision and inspection.
Phone: +86 577 80339888
Fax: +86 577 80339889
Email: ragaoke@163.com