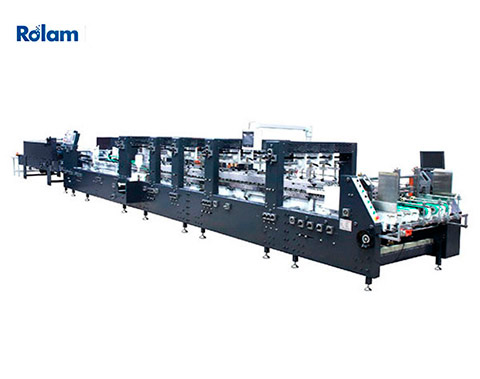 Automatic high-speed folder gluer maintenance used to pack boxes.
Maintenance and maintenance
1 The machinery must be kept clean and cleaned frequently.
2 Wipe the mechanical belt with clean water to keep it clean and prevent slipping, especially to prevent sticking to the belt. The glue wheel and glue box on the bottom of the hook must be cleaned after get off work every day, otherwise the glue in the glue box will freeze and affect the glueing effect.
3 The glue box of the glue part of the fold should be kept clean and cleaned frequently.
4 It is strictly forbidden to adjust the speed when the governor is stopped, otherwise the belt will be severely worn.
5 The inner row plate supports, shafts, and rods should be cleaned frequently. It is better to use a mixture of lubricating oil and butter. It can shake left and right to prevent rust.
6. It is best to drive slowly before turning on the machine and check whether the machine is abnormal.
Company Profile
Zhejiang New Luolan Machinery Co., Ltd, whose previous name is Ruian Gaoke Machinery, is established in 2006. As a professional manufacturer, we not only do manufacturing, but also researching, marketing and offering after sales service. We supply quality equipments, effective and convenient solutions for cardboard box and corrugated box folding industry, printing and packaging industry. Gluing folding machine and window patching machine which produced by Zhejiang New Luolan Machinery Co., Ltd have approved by the National Quality Supervision and inspection.
Phone: +86 577 80339888
Fax: +86 577 80339889
Email: ragaoke@163.com